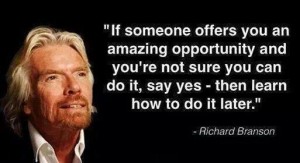 One of my favorite parts of working with startups is the opportunity to learn so many things on-the-fly. Here are ways that learning on-the-fly happens in a startup:
engineers comfortable with a particular technology need to learn something new to complete a project
sales or marketing people need to learn website design and maintenance (and they can do a great job at it)
engineers have to sell
young non-managers have to become managers, including hiring older professionals such as lawyers and accountants
learning the venture money business, dealing with angels, VCs, or incubators
anyone having to learn legal, real estate, insurance, or all the trappings of running a business
everyone learning the fundamentals of building, selling and becoming productive
A few days ago, I mentioned that there are new leaders joining our team. These new team members will have to do a lot of entrepreneurial learning on-the-fly. Their success or failure will largely depend upon how quickly they are able to adapt themselves to the ground realities of entrepreneurship.
What are other ways learning on-the-fly occurs in startups?
Related articles