I ran across a post today by Tomasz Tunguz of Redpoint Ventures that discusses the impact of a startup's location on its acquisition potential. His post left out Georgia, so I spent 20 minutes today to add Georgia to his first chart.
Here it is: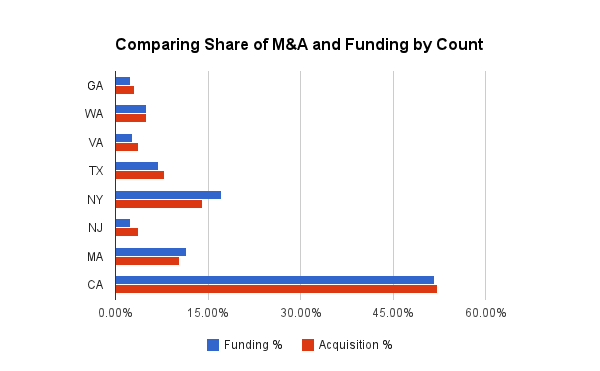 The chart shows the percentage breakdown of the number of companies after 2010 that have received funding (blue) or been acquired (red) by state. The full spreadsheet is here.
Overall, I think it is good that Georgia's relative number of acquisitions is higher than it's relative number of venture funding events. That makes sense. Raising capital is more geographical. Acquisitions are less subject to geographical limitations because firms that are doing important enough things in their respective markets will be snatched up regardless of their location.
What are your thoughts on this data and as it relates to Georgia?